The Carnival of Homeschooling has new graphics, chosen from entries submitted by many hs'ers several weeks back. You can see the post about the graphics here.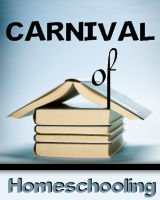 Last week's CoH was hosted by Melissa at Melissa's Idea Garden.

Today Summer has the 124th CoH up and running at Mom is Teaching.

I'll be hosting the carnival for next week. You can send in your articles either using BlogCarnival or by sending the following information by email to CarnivalofHomeschooling@gmail.com:

Title of Post
URL of Post
Name of Blog
URL of Blog
Brief summary of the post
(With "carnival" or "submission" in the subject field of the email.)

See you next week!